LoRa® or Sigfox® data transmission
Very low power consumption and can be solar-powered
I2C and other digital protocols supported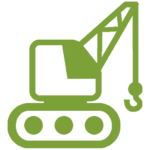 Your Project
You have the requirements
For your project you need to read sensor values or control and monitor production lines. We provide you with everything you need or parts of the solution.
We have the platform Our platform is based on industry standards and therefore compatible with many hardware manufacturers. We can provide the necessary sensors or you have already made a selection. Together we will find the solution for your project.
Our Platform
Compatibility and Flexibility
Radio-Data-Transmission
Our platform is made to transmit the read data via radio using LoRa® or Sigfox® technology. Depending on the technology used and the requirements the time between transmission can be a a long period or just a few seconds.
Low-Effort Integration
We support you with the integration of your sensors with our platform software- and hardware-wise. We support many digital communication protocols like SPI and I2C as well as analogue value ADC conversion.
Our Services
To meet your needs
PCB Customization
Our platform has up to 24 connectors. How many and which you require depends on your project and will be individually customized by us. Also the platform includes a solar charging module. This module can be used optionally.
Software Development
To read your sensors and work most efficiently with your interfaces we will customize our baseline application to meet your requirements. This includes the radio technology and radio configuration.
Cable Assembly
Our partners for cable assembly produce cables according to your requirements. This makes it easy to connect your project to our platform.
Testing
After customization of the hardware and software components we test the functionality in connection with your project. This way we make sure that your application runs smoothly.